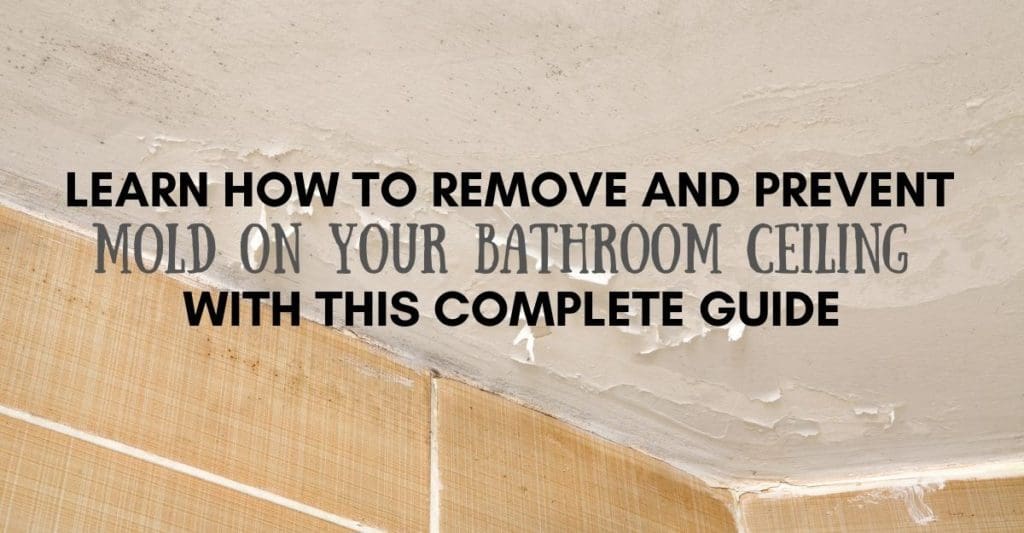 You look up and notice mold growing on your bathroom ceiling – that's disgusting! Nobody wants to deal with that kind of household issue—-mold on bathroom ceiling. Unfortunately, mold problems commonly occur in bathrooms – particularly in not properly vented ones. The steam and moisture make the ideal breeding ground for any type of mold and mildew.
To get rid of mold completely, you don't just have to clean and wipe it away. Killing it is a must! In tough cases, you may even need to replace the ceiling tiles or sheetrock. 
The good news is that you, as a homeowner, can learn how to get rid of mold in your bathroom. If it covers your ceiling ten square feet or less, you can take care of it on your own by following the proper steps and process in this article. However, if the mold covers more than 10 square feet of your bathroom ceiling, it is best to seek assistance from mold remediation specialists.
What Causes Mold on Bathroom Ceiling?
When you notice mold (especially black mold) on your shower room ceiling, your initial reaction might be,  "Something's wrong with my cleaning methods". Well, your cleaning system is probably utterly fine. It's just that mold doesn't grow on dirt and grime alone. The following are some of the typical causes of mold on bathroom ceiling:
Insufficient ventilation

Water leaks or too much moisture

Dark places

Presence of organic substances as mold's source of food

Presence of a lot of oxygen

Temperature between 77 and 86 degrees Fahrenheit and Humidity level of 70% and above
Mold generates primarily in moist areas, either inside or outside your home. In most cases, mold develops under the sink, behind the refrigerator, in dirty air conditioner vents, and in other congested spaces with significant moisture levels. It finds its way into your bathroom by releasing spores in the air and landing on surfaces. 
Is mold on your bathroom ceiling a health threat? Indeed, it is a health threat. Mold spores produce mycotoxins. And prolonged exposure to them can cause health issues, particularly in humans with a delicate immune system.
Top Cleaning Products for Mold on Bathroom Ceiling
Before using any cleaning product for bathroom mold removal, you need to protect yourself first. Wear goggles, gloves, a mask, and proper clothing that can cover your body. Also, it is recommended to work in a well-ventilated area.
Many products claim to remove and kill mold, but household soap and water can usually do the trick. You can also use the following cleaning solutions to eliminate mold from your bathroom ceiling:
Borax 
A white mineral powder

A natural way to remove bathroom mold on ceilings

Make a solution by mixing one cup of borax with one gallon of warm water. Then, pour some into a spray bottle. Spray an ample amount directly on your bathroom ceiling. Scrub it with a long handle brush until the mold stains disappear. 
White distilled Vinegar 
A non-toxic cleaning solution for removing bathroom mold

Pour some white vinegar into a spray bottle, then spray generously on the affected area. Allow it to sit for 10 minutes before wiping it away with a sponge mop. For rigid mold, use a long handle brush to scrub it out.  
Removing Mold on Bathroom Ceiling: 2 Steps to Try
There are two things you need to do once you see mold expanding across your bathroom ceiling. 
1. Identifying the Source of Mold on Bathroom Ceiling
Locate if there is a leak above your bathroom. If so, fix the leak before removing the stubborn mold from the ceiling. If the cause is excess moisture, think about using a dehumidifier or adding an exhaust fan to lessen heat and dampness.
2. Cleaning Mold on Bathroom Ceiling
You can use any of the recommended cleaning solutions in this article. Begin by spraying the affected site generously with either a borax or vinegar solution. If you choose to use vinegar solution and your ceiling is coated with paint, spray directly on the moldy site and wipe it with a clean rag or sponge mop.
If it does not work, you will need to scrape off and change the damaged ceiling area. Seek help from mold removal experts when taking off a severely moldy textured ceiling. Because this area requires protective clothing and particular ventilation masks.
Getting Rid of Mold on Bathroom Ceiling is Necessary
How to Stop Mold from Returning on Your Bathroom Ceiling
After cleaning mold away, you must treat your ceiling correctly to prevent mold growth in the future. You can do these simple steps:
Paint your ceiling with a mold killer or sterilizer to kill off any remaining mold, then clean it off. (Read and do the given instructions on the product you select.) Let it dry thoroughly.

Paint your ceiling with a barrier solution. Once it has dried, start coating your top with any emulsion you pick and mix it with

a 

fungicide

additive to stop mold from returning.
Got Mold on Bathroom Ceiling? Seek Assistance from Mold Removal and Remediation Specialists
When getting rid of mold on bathroom ceiling or other mold removal job is too complicated for you to do, do not hesitate to call in professionals. They will help you deal with the mold issue on your bathroom ceiling. Superior Restoration has highly skilled specialists who can always assist you in emergencies. 
For water damage and mold remediation services, contact us today. We are available 24 hours and 7 days a week.