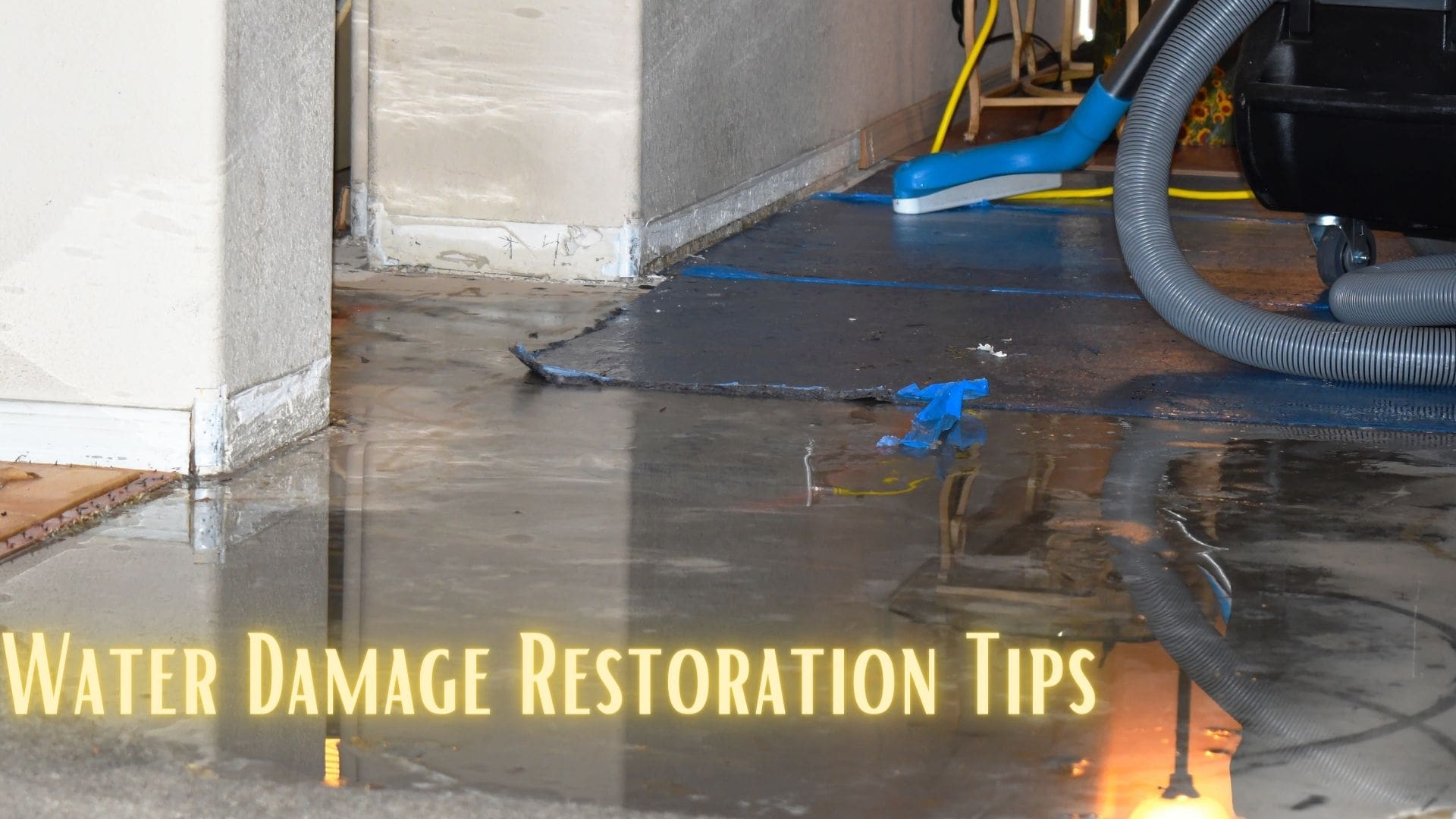 Water is essential to humans, but when it shows up in a different form can cause casualties and destroy properties. The damage could be caused by a natural disaster like storms or flooding, and internal sources like a burst pipe, sewage backup, and appliance malfunction. With over a decade of experience restoring homes, we outlined the industry's best water damage restoration tips to help you get back on your feet as quickly as possible. 
Keep reading to know the best water damage restoration tips that can help expedite the remediation process and ensure your family's safety.
Water Damage Restoration Tips
Tip #1: Ensure safety
The most important thing when you have to deal with water damage is to ensure your safety. Water can wreak havoc on your property and compromise its structural integrity. Before you begin the restoration process, assess if you can handle the damage. In addition, make sure to wear necessary protective gear like gloves, a face mask, and boots when restoring the affected area. If there is severe damage, allow professionals like utility officials, restoration companies, and other relevant resources to take care of the job. 
Tip #2: Know where and how to shut off your home's main water supply
Quick action is critical to mitigate risk, reduce losses, and protect your properties against water damage. The longer water sits on your property, the greater moisture seeps into porous building materials and then gradually spread to other areas of your home. When left unattended can even lead to further damage like mold growth. Make sure to know where your water shutoffs are and how to navigate them in case of an emergency. Finally, if you cannot stop the leak, call a plumber immediately. 
Tip #3: Turn off the electricity supply
When dealing with water damage, electricity is the greatest danger. Water and electricity are lethal combinations. Any wires or cables exposed to water can pose risks. Turn off the electricity supply first before dealing with your water damaged home. Consider hiring professionals and have your electronic devices serviced before you use them. 
Tip #4: Identify the source of water damage
Water damage is divided into three categories. Each category has some degree of contamination. Category 1 water damage is safe to deal with if immediate action is taken. On the other hand, Category 3 water damage is the extreme kind of water damage and is best left to professionals. Assess the level of contamination and make sure to be aware of the health risks associated depending on the contaminants involved. 
Tip #5: Move valuables
Relocate personal belongings like electronics, furniture, and appliances in a safe and dry area. If the furniture is too heavy to move, get help from a friend or two. Protect artwork and important documents using a plastic garbage bag. You may need to dispose of some damaged porous materials.
Tip #6: Begin the cleanup and mitigation process
You can use a shop vac to remove any standing water. Then, use a mop and towels to eliminate the remaining water or moisture. To dry out the affected area, set up fans and dehumidifiers. If it is not humid outside, you may open windows and doors to allow air circulation. Disinfect the area with bleach and water solution. It is also necessary to inspect the once water-damaged area for mold growth. Repair or restore damaged walls, ceilings, and flooring. If necessary, repaint affected walls and ceilings. 
Tip #7: Contact water damage restoration professionals
In any water events, it is best to have a restoration partner on-site to help you secure and restore your property to its pre-damaged condition. Water damage restoration professionals are equipped with advanced tools and methods that are efficient in restoring water damaged properties. They value your property just like you do. They attended training on how to deal with any size of the disaster. Moreover, they are also quick in action.
Water Damage Restoration Tips By Superior Restoration
With over a decade of experience restoring residential and commercial properties, we have developed and acquired the best practices in the restoration industry. Our technicians are certified by the Institute of Inspection, Cleaning, and Restoration Certification (IICRC). It means that our technicians have undergone professional training. 
Our restoration process begins with the assessment of the damage. As soon as we assess the damage, we immediately create a restoration plan and communicate it with the customer. Rest assured that your property is back to its original state with minimal loss. 
To know more about our water damage restoration services, contact Superior Restoration today.