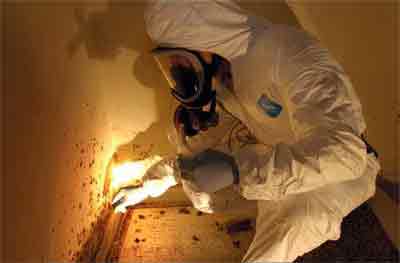 Superior Restoration is a certified Mold Remediation company. Our technicians are highly trained to provide mold removal and remediation in your home or business. With over 15 years experience in the industry, you can trust we will do the job right. Superior Restoration is an IICRC certified firm, which means we adhere to a higher standard than other companies. Trust in our Mold experts to get your house back in order.
Mold is Hazardous to your health can cause massive damage to structures. No one offers better mold remediation services than Superior Restoration. Our technicians are experienced in Mold Testing , Mold Removal, Air Duct Cleaning, Water Damage Restoration and all other aspects of Mold Remediation. We also provide FREE MOLD INSPECTION.
Health Effects of Mold
Mold will cause permanent health issues if not contained and treated properly. Mold will start off by making you sick and then cause allergies and asthma. Our Mold Remediation Temecula and Murrieta services are Superior in every way!
For More Info Call 951-239-4087 Today!
About Superior Restoration
Who We Are

Emergency Services 951-579-4096
Welcome to Superior Restoration, the leading restoration company in Southern California!
Our specialty lies with water damage, and we handle all related aspects including Fire Damage Restoration, extraction, water damage clean up, dryout and restoration. We do Full Water extraction as well as the restoration/repairs/Reconstruction

We Work With
We are approved to work with ALL major insurance companies and will handle all claims for you so you don't have to. Additionally, we are an IICRC-certified company and we are fully licensed, bonded and insured to guarantee the highest level of quality for our clients.
We Are:
• Family owned and Operated
• Over 15 years experience in restoration
• #1 in customer service and communication
• Skilled in negotiating insurance claims
• Licensed-Bonded-Insured
• Specialize in 24 hour response to all types of disasters
Here's What Our Customer's Had To Say:
"I had a slab leak that flooded my kitchen and damaged cabinets and walls.  They treated me like family and took care of my every need.  I had to work with my homeowner's insurance company, which was a bit difficult.  But Superior Restoration made that easy for me as well, they were on my side when dealing with the insurance company…"
"We had a water damage claim from our water heater. We were reffered to Superior Restoration to fix the water damage. This was my first claim and right away i was overwhelmed thinking of all the costs. Well first of all, Superior Restoration sent out someone that same night at 9pm so  I appreciated how fast they showed up and that they work late hours…"
"This is the most efficient and professional company that my husband and I have ever dealt with. We had a gigantic slab leak and had extensive water damage. They arrived on a Sunday night with dryers, humidifiers and blowers. They answered our questions, our phone calls, our texts and were simply amazing. Brian Block is an absolute expert at what he does…"