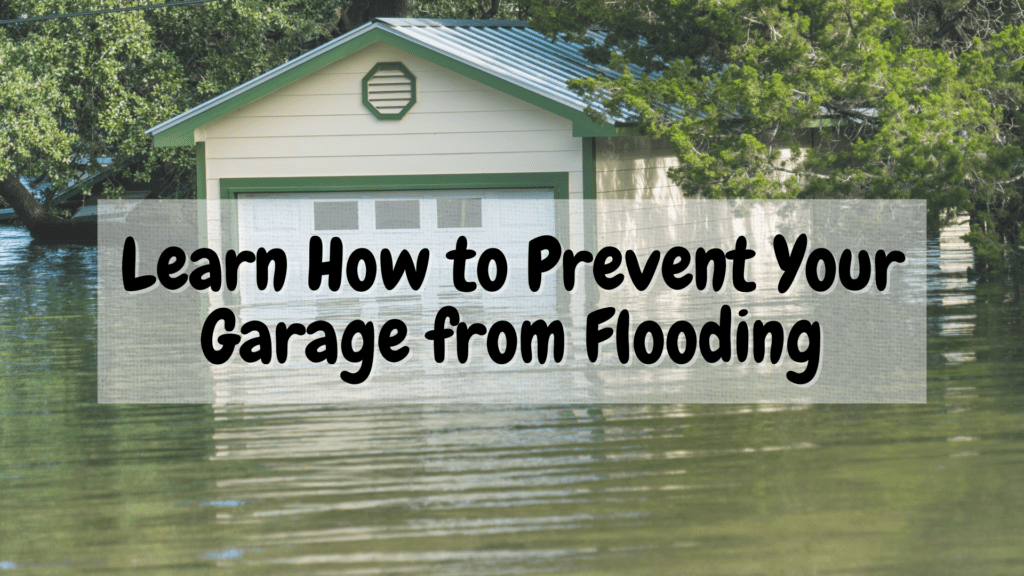 Flooding is a very undesirable natural disaster. It's destructive and terrifying. When excessive water gathers around your property, your garage is the most susceptible site that can get flooded, causing water damage and costly repairs. So learning how to prevent a flooded garage is necessary.
Before we go through the tips to prevent garage flooding, let's find out the common causes first:
Burst Sewage Pipe. Obstructions, extreme pressure, or impairment from above can cause a sewage pipe to burst. Leaks from a damaged sewage pipe can enter your garage, leading to a flood.
Burst Water Pipes. Your yard has water pipes installed under the ground that supply clean water to your home. Once they get damaged and burst, water from the ground below will flow into the garage, causing a flood.
Weather-related Flooding. This is one of the most prevalent causes of garage flooding. Rough rains, hurricanes, and even flash floods from lakes, rivers, or streams can violently flow into your garage from all angles. 
How to Prevent a Flooded Garage
To prevent water damage from occurring to your garage, consider following the tips below: 
Assess the whole area of your home.
Inspect whether there are sites in and around your house that can perhaps cause a flood, particularly the nearby water sources. Make repairs if necessary.
Broken or clogged gutters can improperly direct rainwater or melted snow onto the ground and flow toward the foundation of your garage. To avoid this from happening, ensure to clean your gutters regularly and fix any issues you see.  
Check your garage door's status.
Inspect your door for any signs of issues like gaps, cracks, and holes. Make repairs immediately if there's any minor damage to ensure it is strong enough to defend your garage against flooding. If the issues are great, leave the repair task to the experts.
Install or replace proper weatherstripping or threshold seal.
One of the crucial ways to flood damage prevention is installing or replacing appropriate weatherstripping or a threshold seal on the foot of the garage door.  
Add waterproof veneer to the walls of your garage. 
The side walls of your garage frame are the next most prone to water leaks, especially if there are fissures. Apply waterproof veneer to these walls to form a seal or seal up any cracks to prevent water from flowing into the garage from the outside.
Inspect your property's foundation for signs of damage.
Have your home's foundation checked regularly for any cracks or breaks. These damages provide a gap for water to seep through and make your house, especially the garage, more susceptible to flooding. 
If you see any cracks or fissures, particularly on garage floors, make repairs immediately by sealing them with a vinyl concrete patch or waterproof paint.
Improve your home's drainage.
When the drains and street gutters are overpowered by flood, your house becomes susceptible to flooding. So installing adequate flood drainage on your property is crucial. 
Emplace French drains along your driveway or in front of the garage to direct or shift excess water away from your house's foundation.
Installing appropriate flood vents. 
Flood vents protect your house during violent floods by preventing water pressure buildup that can knock down your walls and foundations. This system allows water to flow openly through your crawl space or garage. 
Emplace flood barriers. 
Install flood barriers, like sandbags, to protect your garage from flood damage. Sandbags act as temporary dams that can absorb water and prevent low-level flooding from occurring. 
You can put sandbags in particular formations to direct floodwater away from your house.
Have storage installed above the garage door.
If you have enough storage above the door, you do not have to think about where you can safely keep your valuable items. Be wise in storing your things. Consider using quality plastic containers for keeping your stuff and duct tape for sealing them. 
You should also transfer all your essential documents or photo albums to a more elevated level in your home to prevent any possible water damage. 
For Flood Water Damage Repair and Mold Remediation Services, Contact
Superior Restoration
The previously mentioned preventative measures can help you avoid spending thousands of dollars in damage. But sometimes, even after doing all you can, your garage can still suffer from flood damage. In such a situation, you can count on Superior Restoration. 
Our company has a team of highly-skilled individuals who can deal with any kind of water damage issue. In emergency cases, you can contact us 24/7. We are enthusiastic to assist you. 
Give us a call if you have any inquiries about our restoration services.