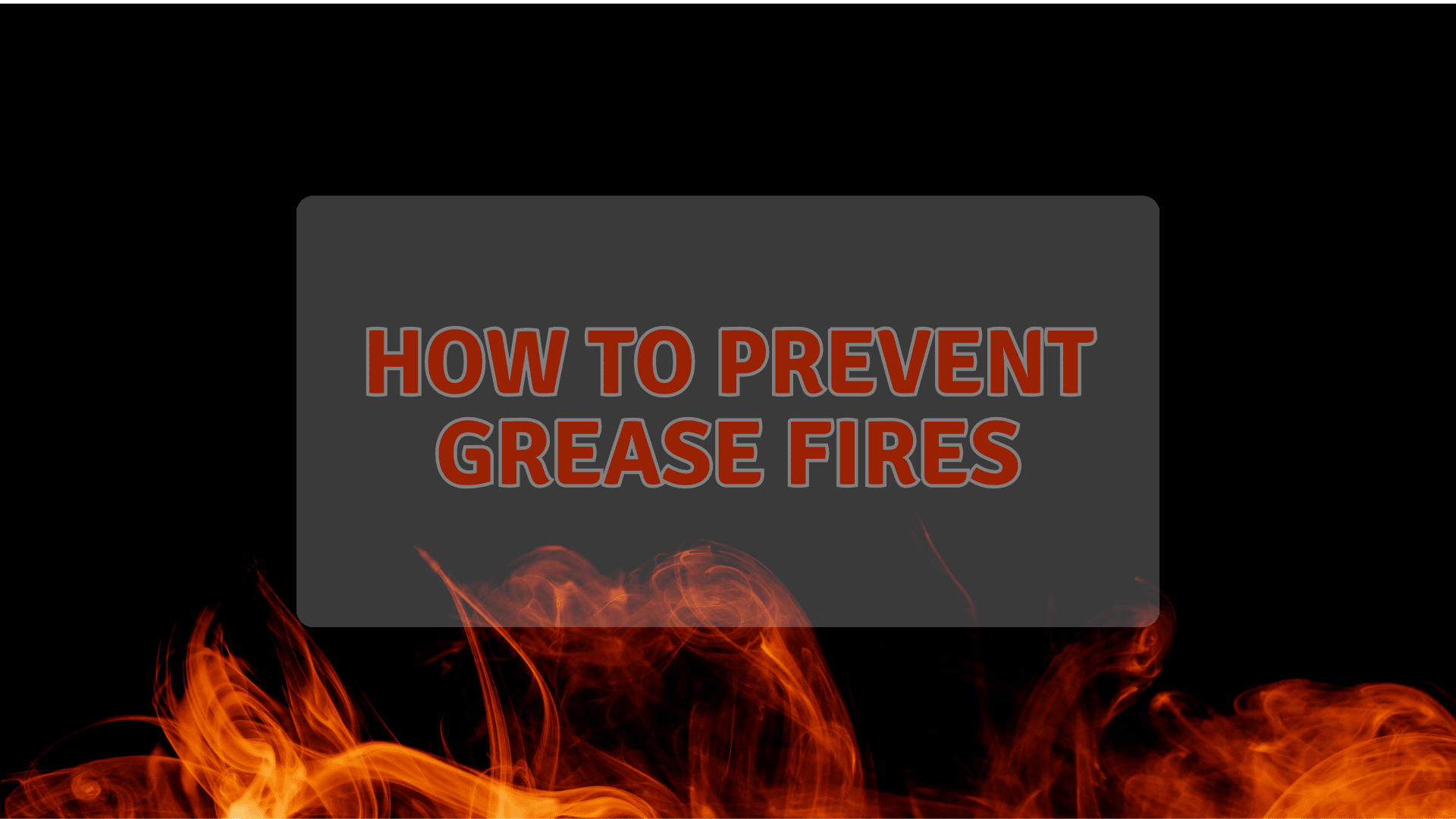 A lot of people spent more time at home especially in the kitchen when the peak of the pandemic started. Yet, a lot still panic when cooking mishaps happen particularly grease fires. Grease fires are the main culprits of cooking fires and are really dangerous. Knowing how to respond quickly and what action to take will prevent severe fire damage. In this blog. you will learn how to prevent grease fires with our easy-to-remember safety tips.
How Do Grease Fires Start?
Home fires start in the kitchen when you cook with oil or grease that reaches its smoking point. During the process of cooking, the temperature actually varies depending on what type of oil you are using.  A grease fire can ignite and this type should be handled differently than a normal fire. Generally, for most oils, the smoking points range from 350-450 degrees Fahrenheit. Oil will begin to smoke when there's too much heat or reaches a temperature that will cause it to combust.
Fire Requirement
 Three things are required for a fire to burn and that includes heat, oxygen, and fuel. Getting rid of any of these will halt the fire from burning.  If you catch fire because of grease, the safest and quickest way to prevent the spread is by removing the oxygen. Close the door and windows to contain the fire.
How to Prevent Grease Fires
 Here are some tips on how to stop a grease fire safely:
Don't leave the kitchen whenever you are frying, boiling, grilling, or broiling. Don't leave the pot or pan unattended.

Being attentive and alert around the fire is one way to be safe from fires. If you are exhausted, sleepy, or intoxicated, never attempt to cook.

Clear your countertops from inflammable items such as potholders, oven mitts, or wooden utensils. Keep them away from your stovetops.

Use a thermometer to maintain the temperature of the oil or grease at a normal rate. Learn about the flashpoint and ignition temperature of the oil you are using. In addition, the autoignition point is between 750 to 815 degrees Fahrenheit (400 to 435°C). 

Eliminate moisture from food before placing it in hot oil. Avoid putting frozen foods into hot grease to prevent grease fires.

Prevent splattering of oil by slowly heating and gently putting food on a pan.

Turn off the burner or stove immediately when you see smoke or smell the oil. Too much heat or high temperatures may cause a fire.

Keep a metal pot lid near your counter so you can easily access it in case a fire begins. In addition, keep salt or baking soda nearby to put out a grease fire.

Place a fire extinguisher in your kitchen for easy access.

Do not allow children to stay in or play around your kitchen especially while you are cooking.

Clean up dirt and grease/oil spills in your burners and counters to prevent the spread of fire.

Avoid wearing loose clothes, especially loose sleeves. A loose sleeve or the end of the loose shirt might touch the stove accidentally and ignite. If clothes are caught on fire, remember these three things to extinguish the fire:

Stop, Drop, and Roll.

Do not attempt to move the pot or pan with burning oil to prevent the spread of grease fire. 

Before treating burns, make sure the fire is contained or the building is completely evacuated.

If you need help, call 911 as soon as you are safe and away from the fire. 
What Makes a Grease Fire Worse?
Never put or use any of the following on a grease fire:
Water is a no-no. Never pour water on a grease fire because this vaporizes instantly causing a steam explosion that will spread flames.
Flour on a grease fire will just fill the air with particles that would ignite and burst into flames.
This resembles baking soda but should never be used. Baking powder like flour will just ignite when thrown on a grease fire. 
Covering a grease fire with a plate or something that is made of glass can result in an explosion that would break the dinnerware of the glass into shrapnel.
Fire Damage Restoration 
If you experience a kitchen fire in your home, aside from calling the fire department, you will need a restoration company that can deal with fire damage. Superior Restoration offers high-quality fire and smoke damage restoration services.
We are available 24 hours a day, 7 days a week, and would love to help restore your home. Please call us today!