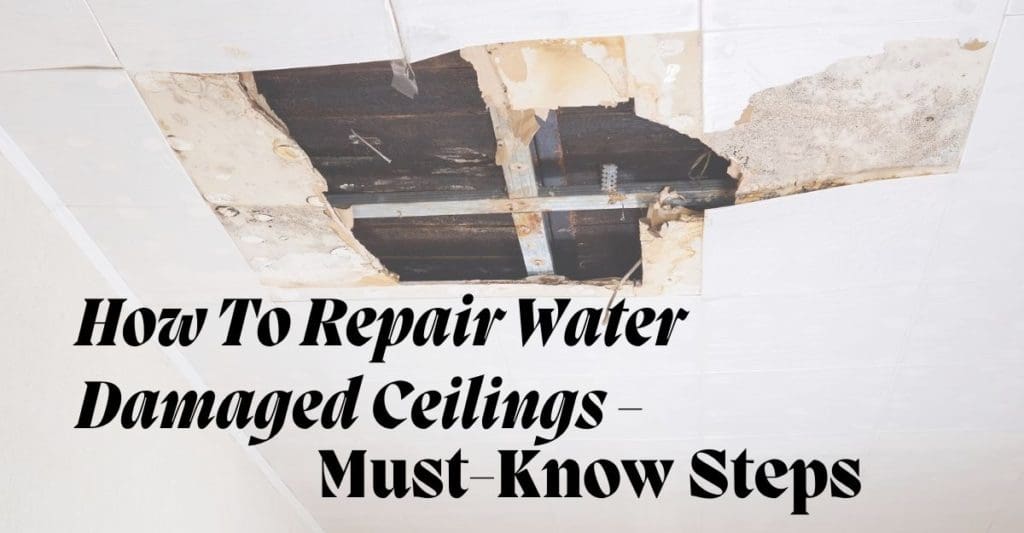 Water damage to ceilings is a very unwanted issue. If not properly treated, it can pose a serious threat to your lovely home. Moreover, it can cause mold infestation and health problems. Having an idea of how to repair water-damaged ceilings can prevent you from costing a great deal of money to repair.  
The trouble begins once water meets your ceilings. It can degrade the quality of the ceiling material, and the resulting damage can be pretty annoying.
You, as a homeowner, must be able to identify the signs and causes so that you will know how to repair water-damaged ceilings as soon as possible.
What are the signs of water-damaged ceilings?
Most types of ceiling damage are due to water exposure. Take note of the following sign:
Ceiling cracks can show up either in a straight line or a spiderweb pattern. They can be a sign of a water-damaged ceiling.
Water is destructive. It can cause your ceiling paint to peel, flake, and even crack. In addition, you might notice the trim and baseboards starting to separate from your ceiling or walls.
Water stains on your ceiling are one of the most recognized signs of water damage. They often appear yellowish, rusty, or dark and moist. You may notice that your ceiling seems perspiring.
Over time, even a minor water leak can cause your ceiling to sag or swell.
Water damage and mold growth often go together. You may identify a mold problem in the corners of your ceilings and walls, particularly if there's high humidity in the room.
What are the causes of water-damaged ceilings?
 Some of the most common causes are:
If there's high humidity in your home, water damage may occur.
Damage in your Home Structure
If a part of your ceiling or wall is damaged, it can create holes and cracks where water can flow through.
Pay attention to where exactly the leak comes from. A faulty part in the shower, drain, sink, or toilet may have probably caused it.
If you notice water dripping from your ceiling whenever there's heavy rainfall, you can expect that there's a leak in your roof and you need to inspect it right away.
Your home starts to deteriorate as it ages. You can see cracks in walls and ceilings where water may leak through.
Ice Dams, Clogged Gutters, or a Broken Pipe
Without proper care and inspection, these problems can cause water-damaged ceilings in your home.
How To Repair Water-Damaged Ceilings: Take Action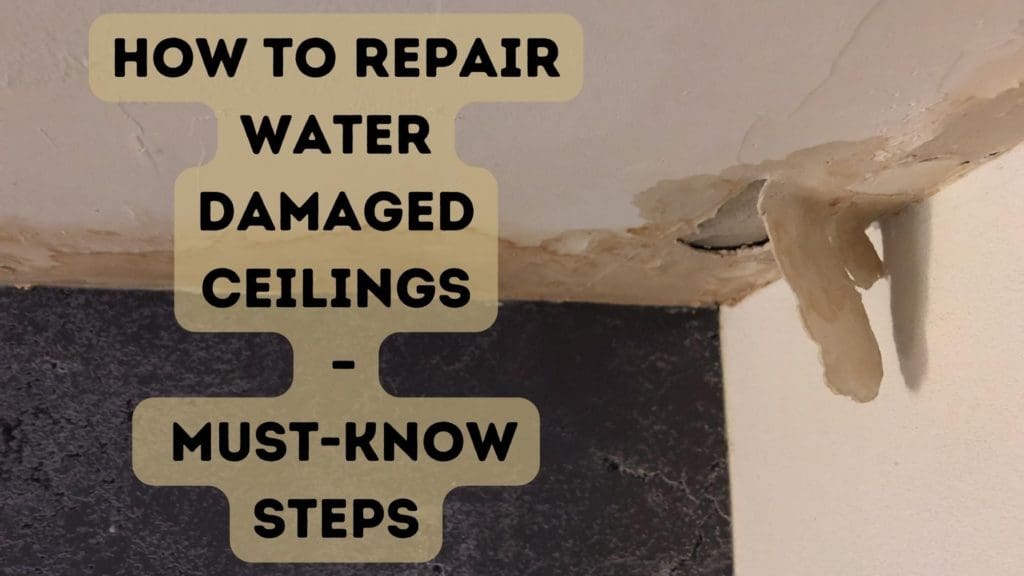 The following steps may help you repair your water-damaged ceilings:
Remove your Belongings.
Move your hard and fabric items away from wet areas. Then lay down towels or rags on the floor to absorb as much of the liquid as possible. Also, place buckets and other containers to catch the water dripping from the ceiling.
Identify the Source of Water Damage.
Find out where the water damage started. You may start checking some of the following common areas in your home:
A burst pipe or loose plumbing connections can cause water damage.

Check for holes in your roof from the attic. Roof leaks can lead to water damaged ceilings.

Any damage to exterior walls permits water to flow into the ceiling and wall cavities. So try to locate where the damage is.

You can also check for leaks around the appliances in the bathroom and laundry area (water heater, washing machine, etc.).
Reduce the Damage.
Once you identify the source of the leak, the next step you need to do is to reduce further damage. You can do it by turning the water off and tightening the hose connections. Take time to dry the affected areas before repairing the water damaged ceiling.
Clean the area with bleach or DIY cleaning solutions to prevent mold growth.
Fix the Source of Water Damage.
Fix the source of the problem or else, you will end up with further water damage. If the source of the leak is a broken pipe, you will probably have to contact a professional.
Remove the Water Damaged Ceiling and Make Repairs.
Once the source of water damage is fixed, start removing and replacing damaged drywalls or ceiling materials. Before working on it, wear safety goggles and a dust mask for protection.
Lay down drop cloths or tarps to catch all the dust and debris as you remove wet drywall, for it crumbles easily.
If the ceiling is only water-stained, you can cut out the damaged part and replace it with a new ceiling material. However, if the damaged area is about 12 square inches or more, consider changing the whole ceiling panel.
After replacing the damaged ceiling, smooth down any rough areas using sandpaper. With a putty knife, fill small holes with joint compound and let it dry before smoothing it out again with the use of more sandpaper.
Dry the affected areas properly to avoid the possibility of future mold infestation that might require you to contact mold remediation specialists.
Prime and Paint the Ceiling.
When you have already repaired your ceiling, open your windows for better ventilation. Your area should be well-ventilated before the priming and painting process.
Apply primer to your entire ceiling and let it dry. Then repaint it evenly.
Knowing how to repair water damaged ceilings is a great start in preventing serious damage to your property. Immediate action is important when there's water damage on your property. However, severe issues may require you to contact a water damage restoration company. Superior Restoration is always ready to help you in emergencies. We are available 24/7.
For inquiries about issues on water damaged ceilings, water damage restoration, and mold remediation services, contact us today!