There are plenty of flammable items in our home, from our kitchen to the living room to our bedroom. They are everywhere. While some of them are obvious to cause a house fire and require extra precautions, many are not many. And, often, many homeowners do not know how to properly and safely store these items. These items, when not stored properly can create a destructive fire, putting your property at risk for fire damage and your family in danger. So, here are some tips on how to safely store flammable items at home to prevent any disasters.
Highly Flammable Household Items
Here are the most common flammable items that are most likely present in your home.
Gasoline, paint thinner, and turpentine.

They are known as

highly flammable substances

that can cause most fires in residential properties.

Nail polish and nail polish remover

. These items contain acetone which is an extremely flammable and volatile chemical.

Rubbing alcohol

. It is one of the most common flammable household items that can cause serious property damage when exposed to fire.

Aerosol cans

. They are extremely dangerous. They will not only ignite if exposed to a fire, but they can also explode when stored near any heat-related appliances or even just placed on a sunny windowsill.

Hand sanitizers

. Most sanitizers are alcohol-based. Similar to rubbing alcohol, they can also ignite very easily in a naked flame.

Non-dairy creamer

. This artificial flavoring is combustible because of the chemical composition it contains, like sodium aluminosilicate.

Oranges

. These Amerca's all-time favorite fruits contain limonene. Its dried peels can be used as fire starters for campfires. On the other hand, a dangerous substance that can cause serious fire damage in homes or businesses.

Flour

. Surprisingly, this and other powdered foods suspended in the air can easily explode when exposed to an open flame.
How To Safely Store Flammable Items At Home
1. Keep Items In Proper Containers
When storing flammable liquids, it is important to always keep them in the proper containers. You might be tempted to store them in ordinary containers like milk jugs and Tupperware or old paint cans. But, doing this can just lead to problems. Containers, not particularly designed for these items, might not withstand the internal pressure of flammable liquids, causing them to leak or melt.
Always keep and transport flammable items only in approved containers. Containers with labels "FM Approved" or "UL Listed" indicate that they have been tested and are safe to use for storing fuel and other flammable liquids. Keep in mind that flammable liquids are highly explosive. Even a small amount of liquid can cause destruction. So, it is vital to keep your flammables in proper storage.
2. Store Flammables in A Well-Ventilated Area
Just like having proper containers, it is also important to place these flammables in a proper area. Most homeowners store their flammable materials in their garage, utility room, or basement. This can be very dangerous. Flammables such as acetone, paint thinner, and ether, should be kept in a well-ventilated area, separated from your home. Flammable cans should be stored in areas away from potential ignition sources like heating equipment. They should also be away from electrical equipment or any equipment that can cause a spark or open flames.
3. Keep The Storage Area At Room Temperature
Furthermore, liquid containers should be kept in an area not exposed to direct sunlight or the intense heat of the summer. If you don't have that area, consider buying a flammable liquid storage cabinet from your local hardware store. Also, keep the storage area locked and not accessible to children.
Professional Fire Damage Restoration Services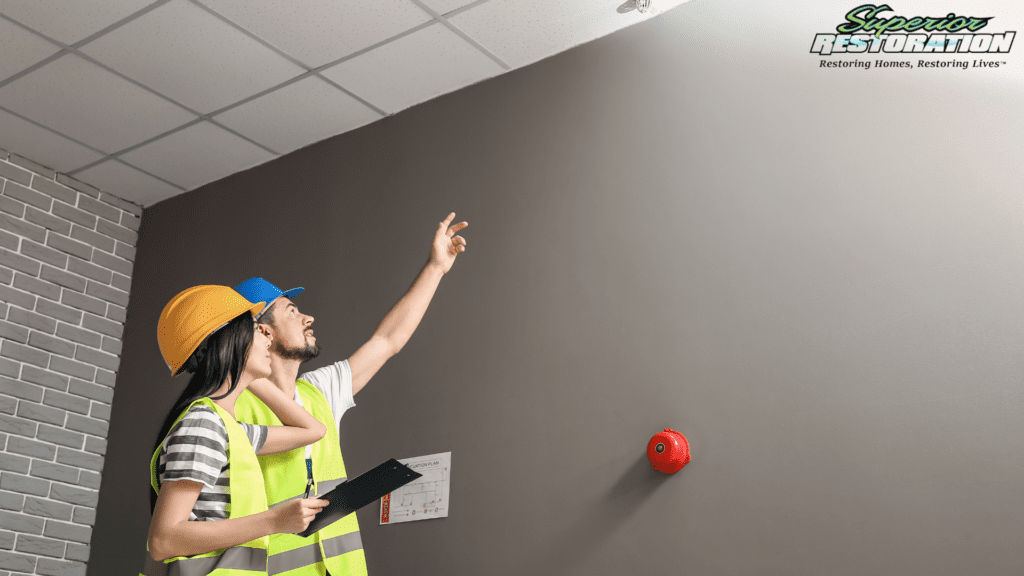 Proper storage of these flammable items in your home not only helps protect your family from danger but also keeps your property safe. Always handle and store flammables properly and safely to avoid any problems. But, in case any of these flammables has caused structural damage to your home or business, contact a fire damage restoration company immediately. A professional restoration company, like Superior Restoration, will help prevent the spread of smoke and soot in your property, as well as restore it to its pre-damaged condition.