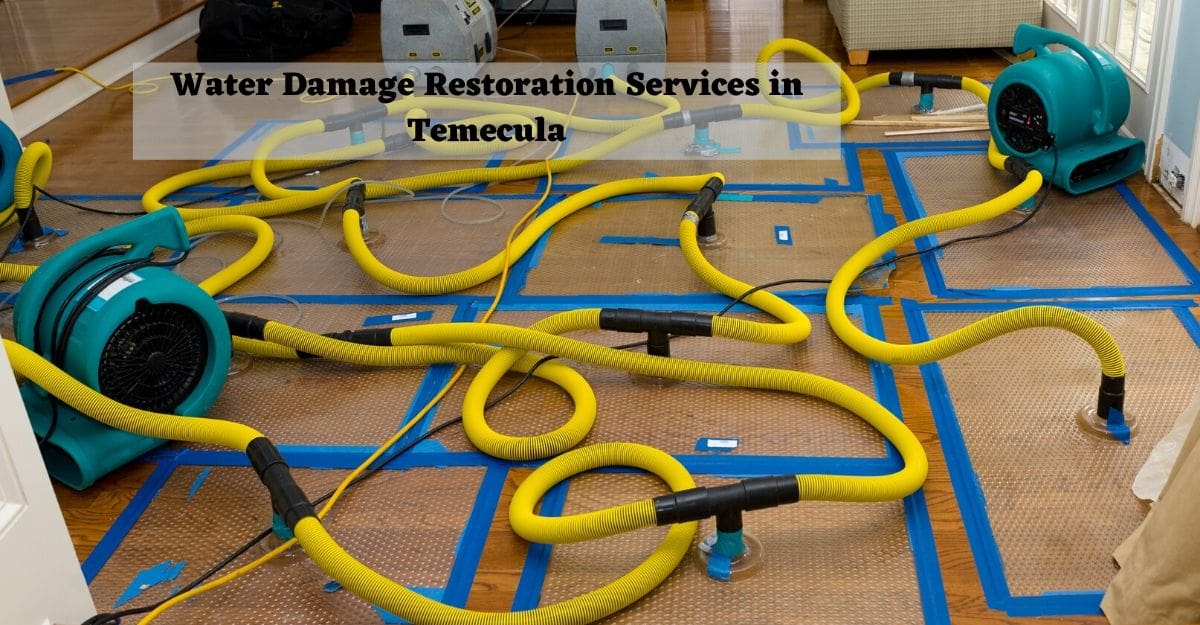 Water damage can happen anytime, anywhere, and to anyone. It usually comes without warning and when it does, it adversely affects your home. No one wants to go through all the inconveniences of dealing with water damage in Temecula. However, disasters do happen and when you find yourself in that situation, the best choice you can make is to hire an experienced and trusted restoration company. Superior Restoration offers water damage restoration services in Temecula.
Causes of Water Damage In Your Home
Water damage has become a common occurrence in homes because of its many sources. That includes;
Leaky or bursting pipes

Malfunctioned or faulty household appliances like washing machines, refrigerators, air-conditioners, and others.

Plumbing issues

Basement flooding

Clogged drains

Weather-related problems and natural disasters
Our Water Damage Restoration Services in Temecula
Superior Restoration in Temecula, CA offers these restoration services;
After performing a thorough inspection of the damage, our team technicians will remove all excess water. The removal of the water includes removing structures that are impossible to restore. These materials include furniture, upholstery, carpet, carpet padding, drywall, baseboards, and other affected items.
When all affected materials are completely removed, professionals from Temecula's water damage restoration team will use specialized tools like dehumidifiers and air movers to dry out the water-damaged belongings and structure. The end process includes disinfecting contaminated materials and addressing mold damage.
Drying And Dehumidification Services
Once the technicians identify all water damage-affected areas, they will seal them off for the drying and dehumidification process. The technicians will set up air-moving machines in areas that contain moisture most, to pull out the trapped water. Then, they extract the water into the air using fans and dispose in another location. When the moisture condition returns to its normal state, all removed items will be back to their original location. Our technicians will continuously monitor and ensure that the humidity levels are proper for thorough and complete drying procedures.
Mold removal requires a thorough procedure to ensure a healthy and safe environment for your home. Superior Restoration Temecula follows strict procedures in eliminating mold-damaged property. Our process includes;
Mold Assessment – This is to inspect the signs of mold in your property and to determine the severity of the damage

Proper Mold Removal – Once the technician finishes the inspection, they will conduct full and thorough mold removal in the area.

Deodorization – After they completely remove the mold, they start cleaning and sanitizing all surfaces, contents, and fixtures then they deodorize them.

Complete Removal Of Moisture – In this step of mold removal, our technicians use HEPA air filtration and HEPA vacuuming equipment to eliminate all moisture in the area.
What To Do If You Find Water Damage In Your Home
Time is of the essence when it comes to dealing with water damage. Whether the cause of the damage is due to a leaky pipe or flooding caused by heavy rains, the risks of not doing anything can be numerous. Follow these simple tips to help reduce the damage and prevent spending a lot of money on the repairs.
Shut off the main water supply. Turn off the water supply from your home or when the water is from the outside, cover or close openings where the water is getting into your property.

Protect your valuables. Remove your valuables that can be damaged and place them in a safe area.

Protect your furniture by removing them.

Remove excess water. Extract as much water as possible using a shop vac (if available) or a mop. When the weather permits, open doors, and windows to speed up the drying process.

Contact water damage professionals immediately. Experts are well-trained and equipped to deal with all kinds of water damage.
While there are things you can do to prevent further damage, there are also things you should avoid doing when dealing with water damage;
Do not use a regular vacuum cleaner.

It is important to use special equipment in dealing with water damage. 

Do not touch electrical outlets and cords.

Do not use electrical devices and appliances like TVs, radios, fans, and others that you may need for the plugin. This is especially important when you are standing on a wet floor to prevent electrocution.
Water Damage Restoration Is Best Left To Professionals
Water damage restoration is a process that does not end with water removal alone. It requires proper drying, dehumidification, and repair which is why it is best to let trained professionals do the job.
Certified water damage restoration companies have trained professionals who can safely and effectively conduct water damage repairs and cleanup. Both proper training and specialized tools are necessary to conduct these procedures.
Water damage restoration Temecula takes pride in our ability to perform quality water damage restoration services in Temecula. Together with our skilled technicians and advanced knowledge in dealing with water damage issues, we assure you to bring your home back to its safe and livable condition. Call us today to learn more about restoration services.