Water-Damaged Carpet
Carpet is one of the most common and trendy floorings you can see in many homes. Aside from the beauty and accent it gives, it also provides safety to the occupants. But, this type of flooring is more difficult to handle, especially when water is the culprit of the damage.
The carpet is absorbent in nature. Because of that, even a small amount of water can bring danger to your carpet. Water-damaged carpet is known to be destructive. It can bring harmful effects to your property and your health.
Drying A Water-Damaged Carpet
If you attempt to dry your water-damaged carpet, keep in mind that acting fast is vital. A water-damaged carpet, if damped for a longer period, has a great chance of attracting mold growth. Mold is very dangerous and could lead to serious health problems.
Assess the Water Involved
Before taking any steps in fixing your water-damaged carpet, understanding the source of the water is essential. You don't know what is on your carpet. Be sure to keep yourself protected when evaluating the situation
If Category 1 water or clean water (water from broken pipes, supply lines, and rain or snow) is the source of the water damage, it is safe and easy to clean. Yet, when the water contains floodwater, your carpet is unsalvageable. It has to be discarded immediately. Floodwaters contain contaminants that are toxic and harmful to humans, which could even lead to killing a person.
If you are unsure of the situation, call in professionals to handle the situation.
Start Drying the Water-Damaged Carpet As Soon As Possible
As mentioned above, acting fast is vital. Drying your water-damaged carpet as early as possible could prevent you from having severe damage and health issues. Plus, it could help you save money for water damage restoration and mold removal services. Follow these simple tips for drying out water-damaged carpet;
Of course, first, it is necessary to stop water from flowing into the damaged carpet. Once you are done with it, remove the excess water. Use a wet vacuum to do the job. Wet vacs are an effective tool in removing any excess water or moisture on your carpet. Though using them requires a lot of time, they are inexpensive and you can rent one easily if you have to just use it once. If needed, vacuum the same area several times to fully remove excess water. 
Move the Wet Carpet from the Floor.
Moving your water-damaged carpet from your flooring can prevent you from having another type of damage or could lessen the amount of the damage. Carefully pull it away. Avoid using too much force to keep the carpet intact.
Discard and Replace Carpet.
Never use the same carpet padding once it gets wet. Carpet padding cannot dry out. Once it soaks up water, it will remain damp. And, dampness will then cause mold growth that could lead to a nasty odor and an unsafe environment. Pull up the carpet and remove the padding. Discard it right away. Replace a new one. 
Dry the Carpet and the Flooring.
It's now time to dry out the carpet and the flooring. Use a high-powered blower, fan, or dehumidifier to help in the drying process. You can still use a regular fan, however, drying will take longer. Keep the blowers or fans working until the carpet and the flooring are fully dry. If the weather permits, open your windows so that air can circulate properly inside your house. Do this only when it's not raining or humid outside.
Sanitize Your Water-Damaged Carpet
Even if you have dried out your carpet, you are still uncertain whether your carpet is safe to use. There could be some germs or bacteria that still stick to it. Sanitize your carpet with an anti-microbial cleaner to make sure that it is free from stains and bacteria.
Never use bleach in cleaning your carpet. Bleach can damage the rear part of your carpet and the sub-flooring beneath it.
Dry Your Carpet Once More
After applying any type of anti-microbial cleaner, let it dry again. When sanitizing and drying are done properly, your carpet should not have any signs of mold growth. Stay alert until you are truly sure that it is free from any danger. Then, bring it back to its place.
Call Professional Water Damage Restoration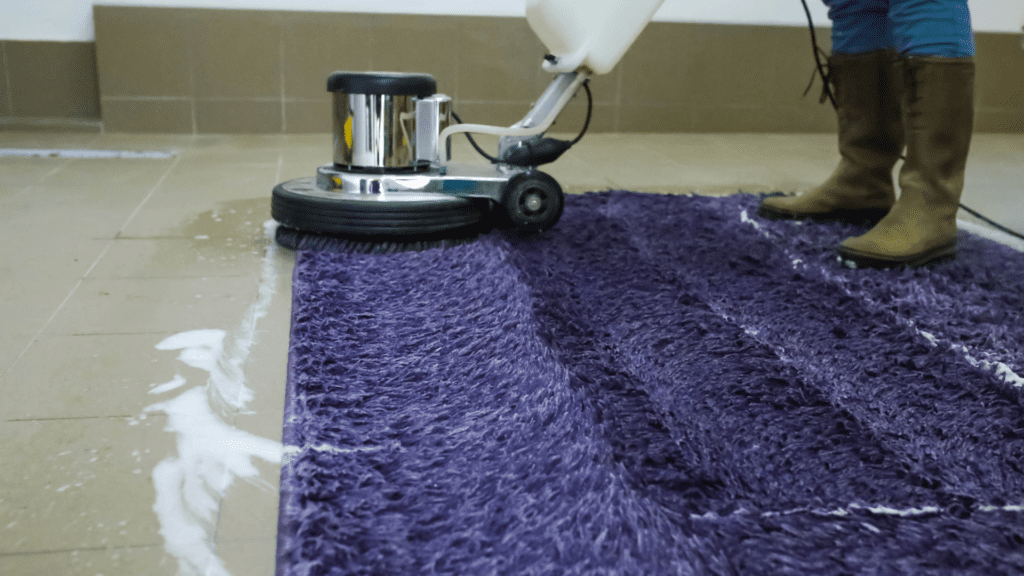 Dealing with a water-damaged carpet can be very dangerous and requires a lot of effort and proper equipment. Drying, if not done properly, could lead to a more serious situation. Thus, letting professionals handle this problem is your best option.
A professional water-damaged restoration company has enough equipment and advanced skills to save your water-damaged carpet and prevent severe issues from happening.
Let Superior Restoration help you. We are a team of professionals who handle all sorts of fire, water, and mold issues. Call 951-301-2123 to talk to our staff and give you ideas about our restoration services.