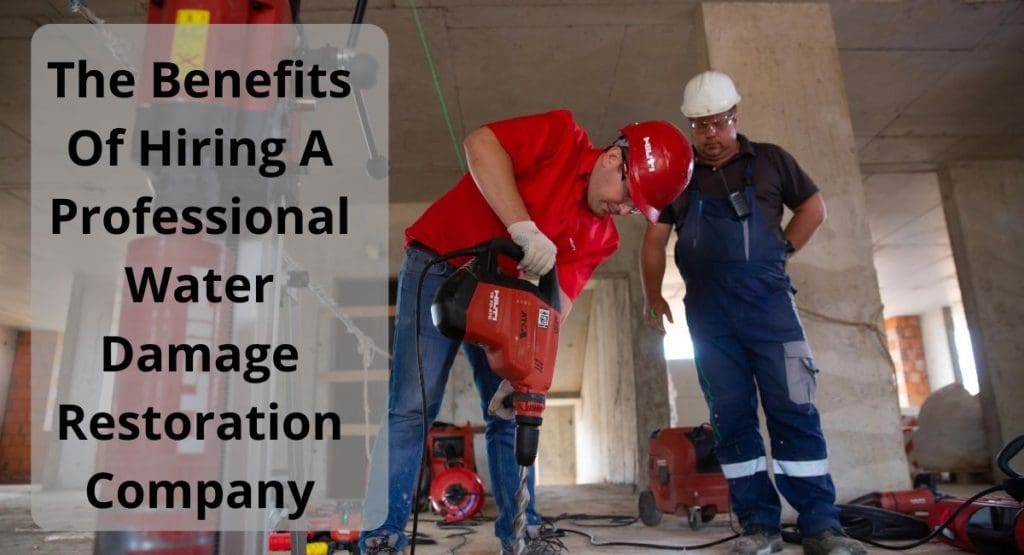 Welcome to the world of professional water damage restoration. When disaster strikes and water wreaks havoc on your property, you need the expertise of trained professionals to restore it back to its original state. Our dedicated team of experts is equipped with the knowledge, skills, and cutting-edge tools necessary to effectively handle any water damage emergency. From rapid cleanup and drying to comprehensive remediation, we are here to ensure a swift and thorough restoration process. Trust in the professionals to safeguard your property and bring peace of mind back to your life.
What Is Water Damage Restoration
Water damage restoration is the process of restoring water-damaged items to their original condition. This involves assessment and evaluation of the affected materials, emergency mitigation, cleaning up, and drying of water-damaged contents.
Water damage restoration might sound simple but the process is more than just cleaning and drying. Restoring properties is often challenging and delicate. The water involved may contain contaminants and pathogens that are harmful to humans. Exposure to this type of water may lead to serious health problems and even death. Simple surface drying may lead to mold and fungi growth. Porous materials like furniture, carpet, and drywall could hold up water even after drying their surface. As a result, mold will begin to thrive and cause further damage to your home as well as affecting the indoor air quality of your living space.
That being said, water damage restoration should not be treated as a "profession" that anyone can do. It is a job that requires thorough and proper methods. And, there is no better option than hiring professionals.
The following are the major benefits of hiring a professional water damage restoration company.
The Role of Professional Water Damage Restoration Services
When dealing with water damage, it's tempting to undertake the cleanup process yourself. However, hiring a professional water damage restoration service can make a significant difference in the outcome. These experts possess the necessary knowledge, experience, and equipment to handle even the most severe water damage scenarios. They follow a systematic approach that ensures efficient restoration and minimizes potential risks.
The Benefits of Hiring A Professional Water Damage Restoration Company
Fast Response and Experienced Professionals
When it comes to water damage, time is of the essence. It is vital to perform water mitigation at the earliest time possible.
Restoration companies are reliable and quick in action. They will immediately come on-site and perform emergency repairs to prevent water from causing more damage to your home. Also, restoration professionals have enough experience and proper training. They are skilled in performing the entire restoration process in a quick and efficient manner.
Restoring water-damaged homes is a tedious and sometimes delicate process. The process should be thorough to ensure that there are no hidden problems that can lead to additional water loss.
Water damage restoration companies utilize professional-grade and state-of-the-art methods. The drying process is often the most challenging task in the restoration process. But a professional restoration technician will see to it that he has the most advanced drying equipment. An expert won't miss a thing.
Proper Insurance Claim Assistance
Professional water damage restoration companies work with almost all insurance companies. They also have enough knowledge of the insurance policies. Thus, they can give proper assistance to homeowners filing losses and get a good settlement amount from their insurance provider. At the same time, professionals can help in providing pieces of evidence in case of disputes with the insurance provider.
Thorough Restoration Services
A water damage restoration company like Superior Restoration Temecula will not send out professionals only to inspect the damaged area. These professionals will perform the entire restoration procedure; from assessment to planning and from cleanup to restoration. They will provide complete restoration services. So, a homeowner won't have to look for other professionals to fix a certain task.
Mold growth is a big challenge a homeowner will face after a water event. Spores can spread quickly and seep into hidden areas like walls and ceilings. Mold does not only damage your home but it can also be a cause of concern. It can pose some serious health risks like allergies. Restoration professionals have enough knowledge to deal with these molds. Furthermore, they use the most advanced methods of safely removing molds from your home and preventing them from causing more damage.
With these and more benefits, it is recommended that you hire a professional water damage restoration company. A certified and reliable water damage restoration company will help you get back on your feet in the quickest way possible. They will also ensure that your home will be back in its original condition.
Choose Professional Water Damage Restoration for Peace of Mind
When faced with water damage, it's vital to act swiftly and enlist the expertise of professional water damage restoration services. By doing so, you ensure a thorough and efficient restoration process that addresses both visible and hidden damage. Don't let excess water compromise the structural integrity of your property or jeopardize the health of your loved ones. Trust the professionals to mitigate the damage, restore your home or business, and bring peace of mind back into your life.
Water Damage Restoration Temecula
We are a certified restoration company that offers quality cleanup and restoration services. We value your properties thus rest assured that we will work efficiently and diligently to ensure that your living space is back to its pre-damaged condition. To know more about our restoration services, contact Superior Restoration, today.