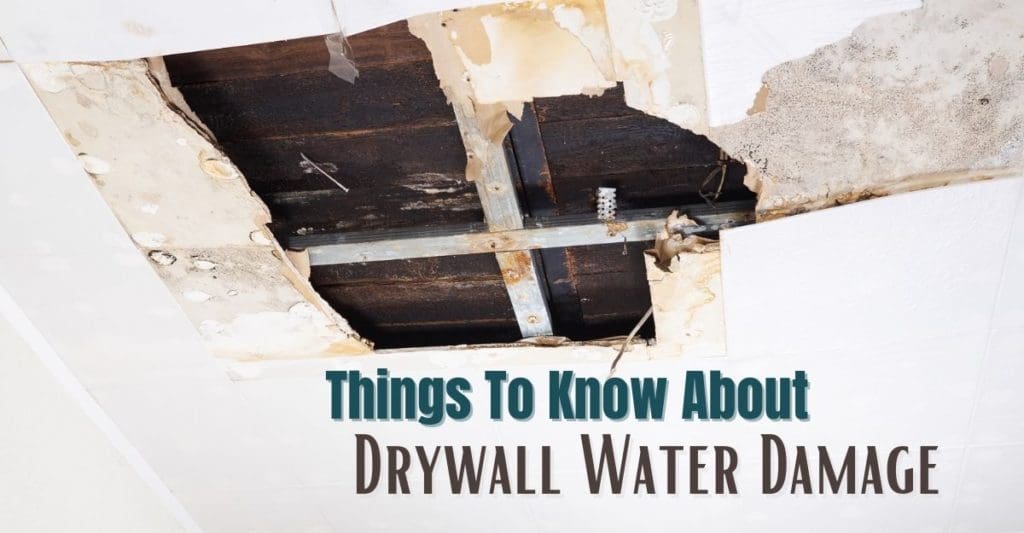 Are you a victim of drywall water damage? Water damage in your ceiling and walls is due to roof leaks that come from flooding, broken pipe, or condensation from your central air conditioning. This is a serious issue that can cause much anxiety especially if it's your first time repairing water-damaged drywall.
However, with a little care and patience, you'll be able to know the causes and fix this mess with our tips below.
Drywall Water Damage
What is drywall?
Surprisingly, drywall is a panel of calcium sulfate dihydrate which is called gypsum and it is sandwiched between two types of paper. One side is light-colored and the backside is darker. The drywall or gypsum board is relatively fire-resistant and used as a building material for ceiling, wall, ceiling, and partition systems in homes or institutions.
What causes water damage to your drywall?
Various things can cause water damage to your drywall. The most common source of water is due to flooding or leaking pipes. Nevertheless, your home's drywall can be exposed to water in a wide variety of ways. Even a small splash can make a huge impact.
What's more dangerous are the hidden leaks that can be damaging not only to the structural integrity of your home but to your well-being as well. Hiring a trained professional for mold remediation may be necessary if the problem persists.
What are the signs?
Know the signs of drywall water damage so you can easily detect them and protect your family from the dangers of water damage.
Presence of musty smell/odor in your home.

If drywall is wet to the touch and has water stains

Bulging or sagging walls
How to Repair Water-Damaged Drywall
Wet drywall absorbs water, thus, a perfect environment for mold growth. So it is necessary to repair damaged drywall as soon as possible.
Step 1: Remove or Cut Out the Damaged Areas/Sections.
For minor drywall water damage, you can just dry it. To remove the damaged area, cut it out as a square or a rectangle. In this way, it will be easier for you to cut and fit patches.
For ceilings, use drywall clips if patches are 12 square inches or less to hold them in place. Larger than that, they should be attached to the ceiling joists. This is to securely hold the patch's weight and the insulation above it.
You can use drywall or a keyhole saw to get rid of the damaged area/section. Be cautious with wires and plumbing as you work.
Step 2: Dry the Affected Area.
Drying the affected area will greatly help in preventing further damage and the growth of mold. Ensure that the area is completely dry. You can use a moisture meter to gauge the level of moisture.
For additional drying tips, using blowers, dehumidifiers or advanced equipment will do the job. Keep it on until your wet drywall including the wall cavities or interior of the wall is fully dried out.
Step 3: Fix the Cracked Area or Install New Drywall.
If the damage in your drywall is minor, just patch the damage using a joint compound. You can find and buy this at your local hardware store. If needed, you can apply some drywall tape.
For large sections, you can install new drywall. But before that, measure the size of the hole and cut out the drywall a little bit bigger than the hole. Then put it around the hole and secure each side to the suds using the drywall screws.
The next thing to do is to apply tape and joint compound to match it with your existing drywall. You can apply joint compound a few times for a smoother and better surface. Let it dry overnight before doing the next step.
Step 4: Paint the Restored Drywall.
To make the joint compound even, sand it until it becomes smooth and flat. After that, paint the drywall with primer to seal the area. Then, paint the entire wall to make the color even throughout.
Prevent Drywall Water Damage
If your home is prone to water damage, use a waterproof hardboard made from waterproof composite material or pressed wood fibers. Proper maintenance should be maintained to avoid the same issues in the future. Let experienced and skilled professionals from Superior Restoration handle this type of issue—drywall water damage.
Whether your basement floods or you have leaks in your roof, we are ready to restore your home to its former state. Please call us now! We are available 24/7.