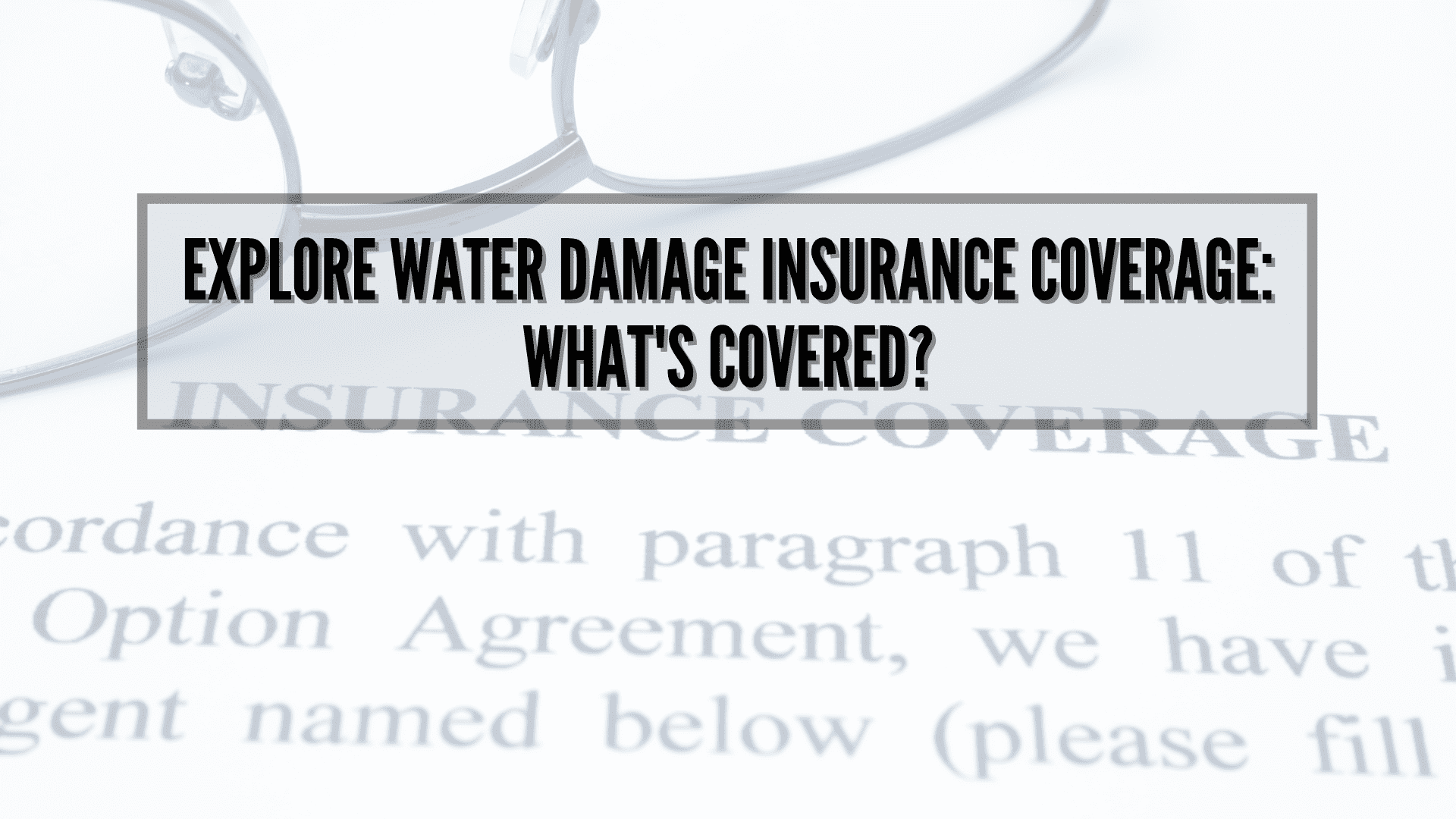 Water Damage Insurance Coverage
Your homeowner insurance gives you and your property protection caused by several culprits, such as severe weather and unexpected disasters. For most incidents, it is easy to understand which of these situations are covered by your insurance company. However, when it comes to water damage, it becomes complicated. There are many factors involved in determining whether this source of water damage is covered or not. As a homeowner, it is important that you understand what is covered by the insurance company. Let us walk you through what type of water damage can be covered or not.
What Are Some Of The Sources Of Water Damage?
Water damage can happen at any time, even without the presence of severe weather. As a homeowner, it is vital that you know what causes water damage in your home because not all sources of water damage can be covered in your insurance policy. Thus, it is your responsibility to prevent your home from being damaged by water. Let us refresh your memory of some of the sources of water damage.
Severe weather such as thunderstorms or excessive rain

Sewer backup from the municipal water system

Water seepage into your home (burst pipes, cracked walls, leaking roof)

Overland flooding
Water Damage Insurance Coverage: Know the Types of Water Damage My Insurance Company Will Cover
Unfortunately, not all types of water damage are covered by your insurance company. Most standard insurance policies will cover water damage that is sudden and accidental. This means the damage was caused by unexpected events and there were no manifestations that it could be a potential problem or it was not caused by a wear and tear situation.
A good example of this is when sudden wind damaged your roof and resulted in accidental water damage to your attic and ceiling. Your insurance will cover the damage.
However, if your insurance company noticed that your roof had some signs of wear and tear and was not maintained properly, it is most likely that your claim would be denied.
Here are some other types of water damage that your insurance policy will cover:
   Damaged due to severe winter, your pipes froze and burst causing the water to spread in your home and result

in

damage.

Damaged caused by severe weather such as rain or snow

   Overflow from toilets

, sinks

, bathtubs, and others

   Damaged associated with extinguishing the fire

Vandalism or malicious activity
What Types Of Water Damage Are Not Covered By My Insurance?
If the water damage is considered gradual, it will not be covered. If the water touched the ground first and flowed into your home, it is also not covered by your insurance company.
It is important that you know which type of water damage is covered by your insurance. Review what is written on your policy and if necessary, add extensions or adjust your insurance policy depending on your needs.
Water damage Due To Lack of Preventive Maintenance
Your home is built with different pipes and wires and is equipped with some machines that are susceptible to water damage. As a homeowner, it is your responsibility to check, repair, or replace any areas or parts of your home that require the action. Your insurance company will deny your claim if they see signs of a lack of preventive maintenance or an act of negligence.
Water Damage Due to Sewer Backups
This is also one of the types of water damage that will not be covered. If you find your house prone to this kind of situation, you may consider adding it to your insurance policy.
Water Damage Caused by Gradual Leak or Seepage
This damage includes water seeping through cracks or leaky proofs coming in around your foundation or exterior of your house. This amount of water can gradually damage your property. It is important to act immediately, so insurance might consider covering the damage.
The Source of the Water Damage
In most cases, your insurance company will not cover the source of the water damage- such as a faulty hot water tank. However, areas that were affected by the water damage will be covered by your insurance company.
Flood
Standard homeowner insurance policy does not cover water damage caused by rising water, rainwater, surging rivers, and groundwater. For this kind of scenario, be prepared by getting a separate insurance flood policy.
What Is Included in Your Insurance Coverage
Knowing the coverage of insurance policy is very important, to protect you against loss due to water damage. Review your insurance policy from time to time or you may contact your insurance broker to give you a full explanation of your insurance coverage. Below are the two types of insurance coverage that are applicable to water damage issues:
Dwelling Coverage
Your homeowner insurance policy will pay for the repair or replacement of the structure of your home if the damage was caused by the covered cause. In most cases, the detached structure of your home such as the garage, chimney, and others are also included in your insurance coverage.
Coverage For Your Personal Belongings
Your personal property including your furniture, clothes, personal property, and others are covered if they were affected or damaged due to the mentioned covered causes. In the case of expensive items, such as jewelry, art, collectibles, and so on, are also covered but there is a certain limit imposed.
What To Do When You Have Water Damage
The first thing that you have to do is to shut down the source of the water. Check the leak in the area where the water damage happened. On top of this call your insurance company immediately to start the process of your claim. Then, take photographs, videos, and inventory of the items or areas of your home that have been damaged. You may include the brand, price, and age of your personal belongings.
Your insurance company might not be able to come to you right away, so it is important to keep documenting the damage or further damage and keep your communication constant. In case the damage is getting worse, you may consider contacting a local restoration company.
We Can Help You With Your Insurance Claim Procedures
We know that filing an insurance claim is stressful. It would take you a lot of time and may require you to give full documentation of what happened. Superior Restore professionals have an in-depth knowledge of insurance claim procedures. Since we are approved to work with all insurance companies, we can help you make the process stress-free. If you encounter water damage today, contact us.